If you're looking to get started with yoga or deepen your practice, there are now more options than ever to do so online.
The choices for practicing yoga online are vast, from live-streaming classes to on-demand content and even one-on-one virtual sessions with a teacher.
But with all of these different types of online yoga classes available, which is best for you?
In this article, we'll explore the different types of online yoga classes as well as their benefits. We'll also share our top picks for the best programs for beginners and intermediate yogis alike.
So whether you're new to the downward dog or an experienced sun salutation pro, read on for everything you need to know about finding the best online yoga class for you!
The Best Online Yoga Programs
To help you find the perfect online yoga program for your needs, we've compiled a list of some of our favorite options below.
We've included programs for beginners and those looking for more advanced instruction so that everyone can find something right for them.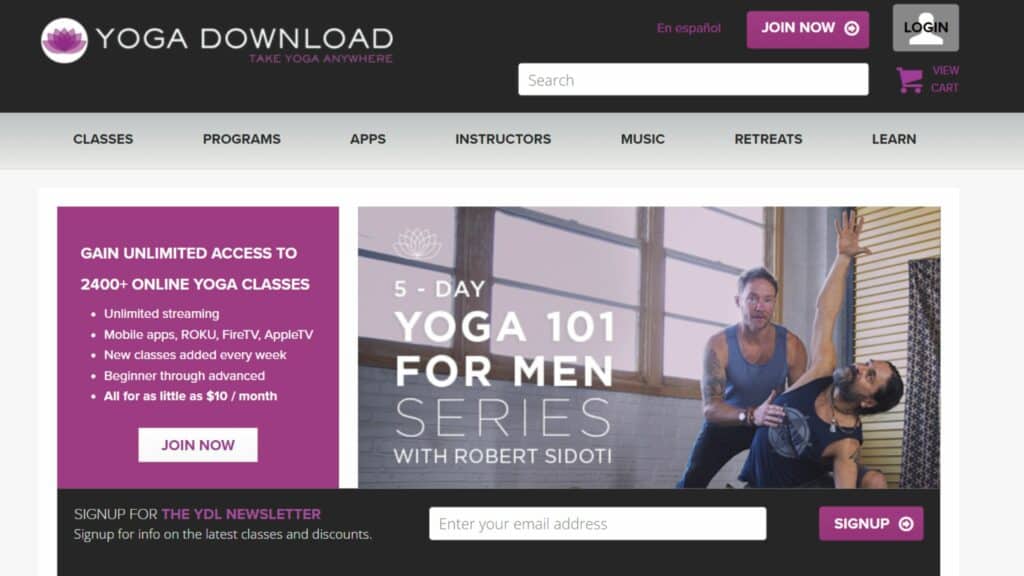 If you're looking for a comprehensive online yoga experience, look no further than Yoga Download.
This website offers an extensive library of audio and video classes ranging from beginner to advanced levels, so you can always find something perfect for your skill level.
And if you're short on time, they also offer shorter "mini-classes" that are perfect for when you need a quick fix.
Click here to visit the Yoga Download website.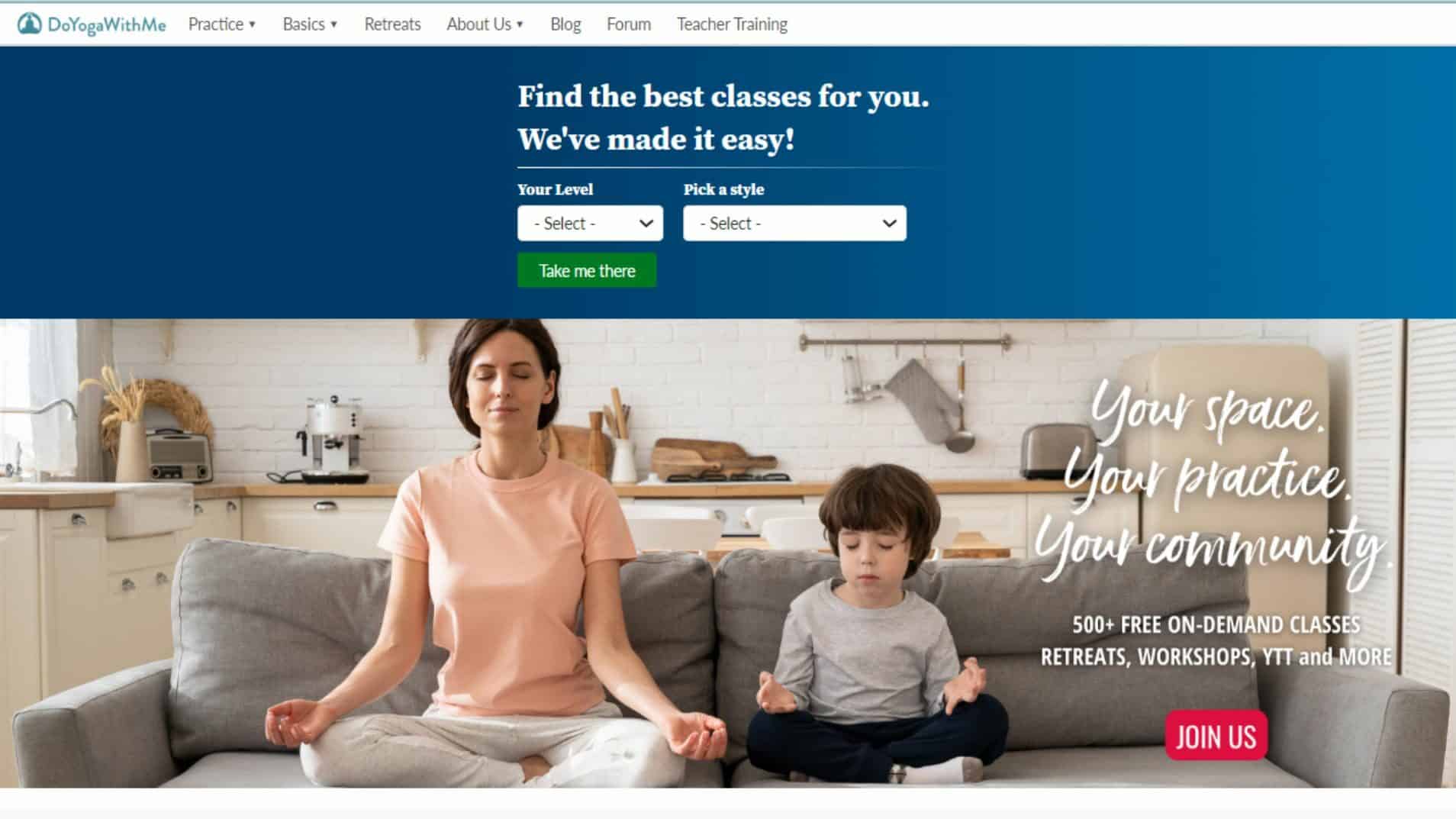 Don't let the name fool you – this website has plenty of options for yogis of all levels, including beginners.
They have over 500 different class videos available on their site, so finding one that's right for your needs will be a breeze (and with classes ranging from 5 minutes to 2 hours in length, there's definitely something here for everyone).
Plus, new videos are added weekly so there's always something fresh to try out!
If you're looking for a more affordable online yoga program that still offers a wide variety of class styles and lengths, DoYogaWithMe is definitely worth checking out.
With over 800 classes available (and new ones added every week), there's something here for everyone – whether you're interested in Hatha, Vinyasa Flow, Yin Yoga, or anything in between.
Prices start at just $9 per month for unlimited access to their entire library of content.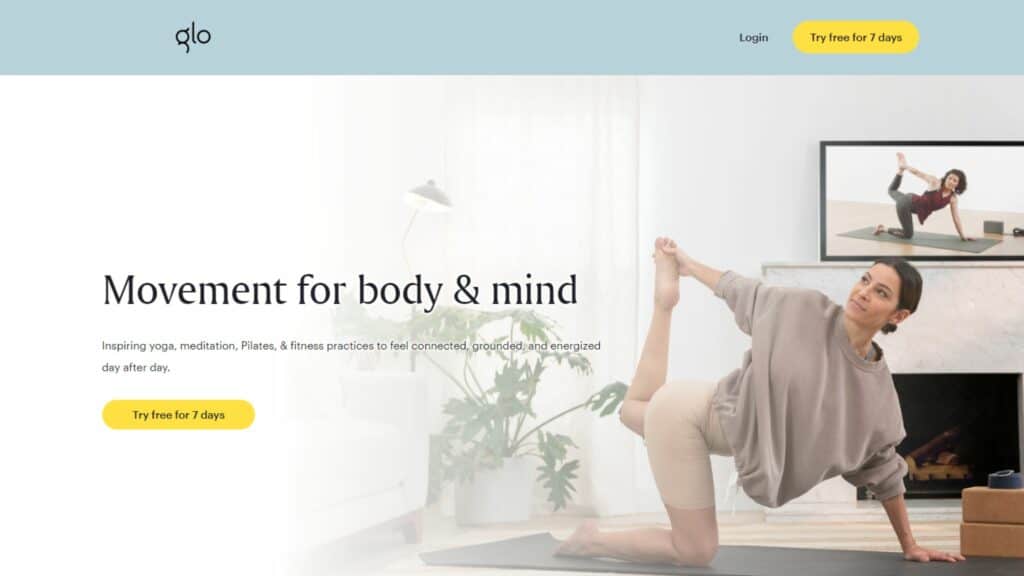 If you're looking for high-quality yoga instruction from some of the world's best instructors, look no further than Glo. This website offers access to over 3,500 different classes and videos, so you can be sure to find something that meets your needs.
And with new content added daily, there's always something new to explore!
With over 3200+ recorded classes available on demand at any time that suits your schedule (and new ones added every week), YogaGlo is perfect for those who crave variety and flexibility in their practice.
While most classes hover around 60 minutes long, they do offer longer format workshops & teacher training courses, too, should You feel like delving deeper into your practice.
The majority of their offerings are geared toward beginner & intermediate students.
But with four different membership tiers ranging from $18-$108 monthly – depending on how often you plan to practice. They also provide access to more specialized content like Pre & Post Natal Yoga and Advanced Practices.
Plus, the first 14 days are free, so it's worth trying them out before committing financially.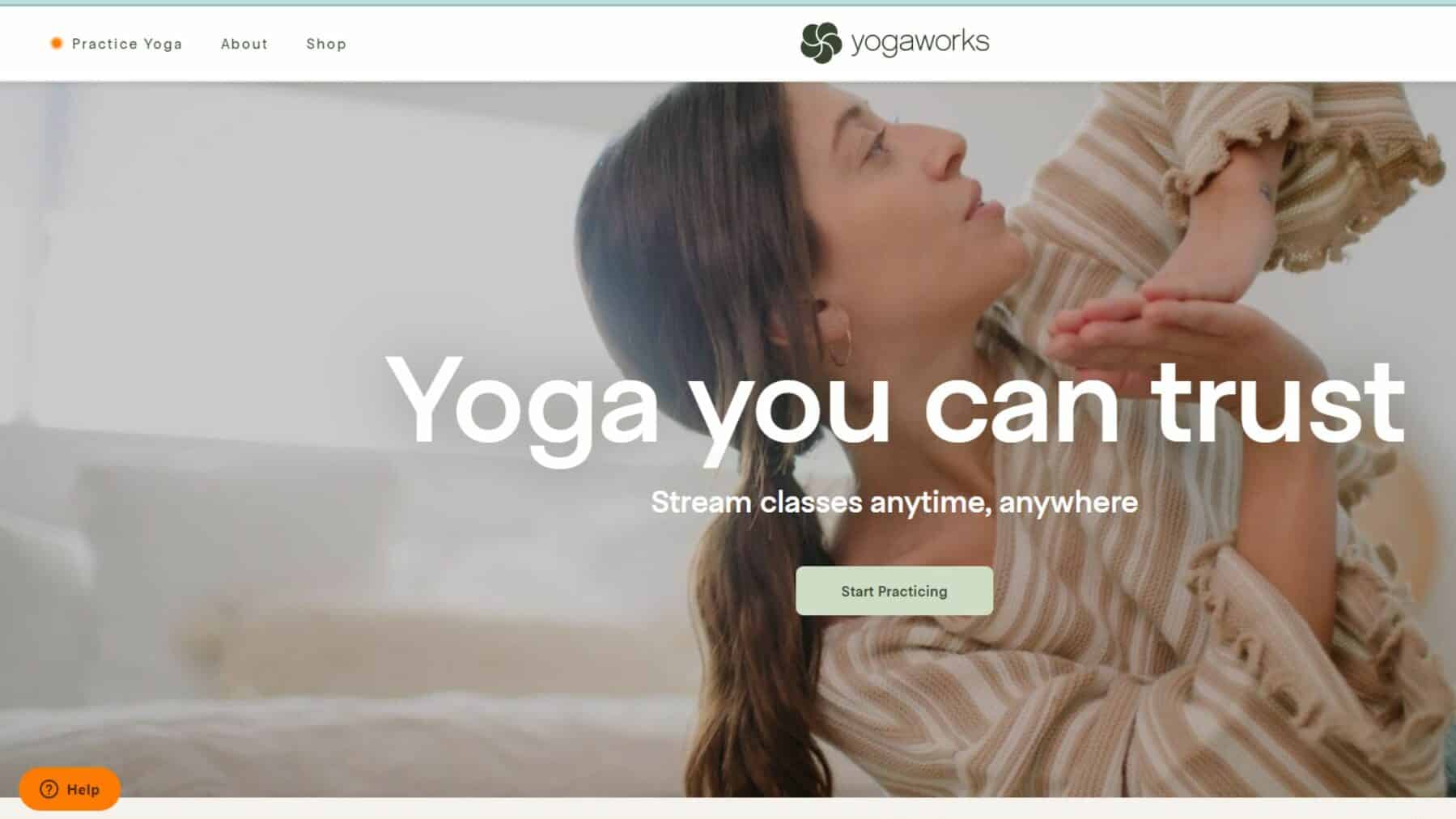 YogaWorks is a great option for those wanting an online yoga experience that feels like attending a class in person. That's because all of their classes are taught by real instructors who are passionate about helping others improve their practice.
Plus, you'll never get bored with over 1,000 different class options available (including both live and pre-recorded)!
Alo Moves is an online platform offering at-home yoga classes and fitness content. Many different types of yoga classes are available there, such as Vinyasa, Hatha, Yin, Ashtanga, Power, and others. Whether you're just starting out or a seasoned yoga practitioner, Alo Moves aims to make yoga available to everyone.
Yoga classes at Alo Moves vary widely and are taught by qualified teachers. You can select sessions that match your personal preference, time frame, difficulty level, and areas of interest. You can discover lessons to meet your goals, whether you want to concentrate on strength, flexibility, relaxation, or specific positions.
You can sign up for their service monthly or yearly to enjoy Alo Moves. They offer unlimited yoga, fitness, and meditation for $20/month or $199/year. To give you a sample of their content before deciding to subscribe, they provide a 14-day free trial period. The platform keeps adding new courses and programs to its collection, guaranteeing that customers always have a fresh and varying experience.
Adriene Mishler, a well-known yoga teacher, and actress residing in Austin, Texas, founded the online yoga platform Yoga with Adriene. Adriene's aim is to offer accessible and inclusive yoga sessions to individuals of every age, background, and skill level.
Adriene became well-known thanks to her YouTube channel, which offers a huge selection of free yoga videos, including tutorials on correct alignment, full-length courses, short sequences for specific purposes, meditation techniques, and more. The channel has earned millions of subscribers, making it one of the most popular online yoga resources. She strongly emphasizes the value of taking care of oneself, accepting oneself, and enjoying the process.
In addition to the popular "30 Days of Yoga" series, Adriene frequently conducts free yoga challenges. These tasks give a systematic method to approach everyday practice, incorporating exercise, mindfulness, and self-reflection. They are made to assist individuals in developing a dependable yoga practice schedule and enjoying the life-changing benefits that result from consistent practice.
Omstars is an online platform for yoga and mindfulness. To assist practitioners of all levels, it provides a wide variety of yoga sessions, tutorials, workshops, and other information. It offers a huge selection of readily available yoga classes in a range of styles and skill levels. Regardless of your level of experience, you can choose lessons that meet your requirements and preferences. Different yoga practices are covered in the lessons, including Vinyasa, Hatha, Ashtanga, Yin, Kundalini, and others.
Omstars provides additional resources on wellness, nutrition, philosophy, and other topics in addition to yoga lessons. You can sign up for their service monthly or annually, ranging from $18/month to $189/year, to access Omstars. Subscribing to Omstars allows unlimited access to their library of content, allowing you to do yoga at any time and place with an internet connection.
Yoga International provides an array of yoga and wellness tools for practitioners of all levels, including yoga instruction, articles, videos, and other materials. They feature an extensive collection of online yoga classes taught by qualified teachers. The courses, which cater to all levels, include a range of styles, including Vinyasa, Hatha, Yin, Ashtanga, Restorative, and Kundalini.
On the website, you will also find content related to mindfulness, meditation, nutrition, Ayurveda, and general holistic well-being. Yoga teacher training programs are also offered to those who want to develop their understanding of the practice further.
Their membership fee is priced at $19.99 monthly and $169.00 annually. A 7-day free trial is offered, so you can try first before you commit.
YouAligned is a website that promotes mind-body-life wellness with a focus on yoga-related material. It has evolved to include numerous articles and multiple virtual yoga, fitness, and wellness classes that serve a global community. The site is dedicated to offering informative and easily available content that promotes well-being, healthy living, and personal growth. YouAligned addresses a wide range of subjects, such as social justice, family, mindfulness, yoga philosophy, and wellness.
YouAligned offers a subscription-based service called YouAligned Classes that gives users access to a range of online classes and programs in addition to valuable articles. These sessions offer a variety of yoga, meditation, fitness, and other topics that cater to beginner and advanced levels. After the free trial, you will pay the subscription fee, which costs $16 monthly and $160 yearly. Notably, through their collaboration with Trees for the Future, every class finished contributes to planting food-producing trees for agricultural communities in Sub-Saharan Africa.
Cosmic Kids is an attractive and interactive platform that introduces kids to the benefits of yoga and mindfulness by means of telling stories and playing. It is a helpful tool for parents, teachers, and caregivers who want to support kids' physical and mental health while nurturing their artistic and imaginative abilities.
Jaime guides kids through yoga poses that are based on well-known stories, films, and concepts in Cosmic Kids' series of yoga experiences. These excursions let kids go on fantastic adventures while practicing yoga and mindfulness exercises since they include storytelling and creative imagery. The lessons are made to encourage relaxation and mental well-being as well as physical activity, flexibility, balance, and focus.
Cosmic Kids also offers kid-friendly breathing exercises, mindfulness exercises, and relaxation techniques, along with yoga adventures.
Obé is an online fitness platform that provides a wide variety of both live and on-demand fitness sessions facilitated by skilled instructors. Through their varied selection of topics, engaging experiences, and flexible scheduling choices, Obé provides a convenient and enjoyable way for individuals to keep themselves active and fit in the comfort of their own homes.
Obé provides several types of workout programs, such as dance, HIIT (high-intensity interval training), barre, yoga, pilates, and strength training. The instructors in the classes are passionate and skilled, and they lead the participants through fun and dynamic sessions. Users can pick a workout that suits their schedule and tastes because the programs are offered in durations ranging from 10 to 60 minutes.
Subscription is priced at $24.99 monthly and $169.99 annually after the trial ends.
Online streaming service Gaia, formerly known as Gaiam TV, highlights conscious living and personal growth. It has a huge library of movies, documentaries, and original content on a variety of subjects, such as yoga, meditation, alternative medicine, spirituality, mindfulness, and sustainability.
Teachers, specialists, and thought leaders from many disciplines, including spiritual leaders, yoga instructors, scientists, philosophers, and wellness professionals, are showcased at Gaia. The site aims to offer thought-provoking, inspirational, and informative content to help viewers understand various aspects of their development, raise their awareness, and lead more fulfilling lives.
Gaia provides guided meditations, documentaries, interviews, and educational materials aside from a huge collection of videos on various topics, including energy healing, ancient wisdom traditions, UFOs, sacred geometry, and metaphysics. Additionally, it offers popular yoga and fitness programs with various types of classes for practitioners of all skill levels. Plans are priced from $11.99.
Daily Burn online yoga classes, also known as YogaWorkouts, offer a variety of routines that cater to different levels of expertise and physical capability. The classes are well-structured, with instructors that are skilled and engaging. They provide workouts ranging from as short as 15 minutes to longer sessions, making it convenient for users with varying schedules​.
They offer a 30 day free trial so you can get started right away and see if it's a good fit for you.
The Benefits of Practicing Yoga Online
The benefits of practicing yoga online include the following:
Variety – You can choose from a variety of classes that fit your schedule, and you are not restricted to the type of yoga in your local area. You have access to expert instructors from around the world without needing to travel to find them. Plus, specialty classes are often available (like pregnancy yoga or meditation) that you might not be able to find at a regular studio.
Convenience – In today's world, we often feel like we need to wear expensive workout clothes, drive across town and pay a lot of money just to access average-quality yoga instruction. Online classes make it easy to access world-class teachers.
Cost – They're usually cheaper than in-person classes…and sometimes even free! If cost is an issue, plenty of options out there won't break the bank (or wallet). All in all, online yoga classes provide an affordable way to practice regularly without having to commit financially (or otherwise) to one particular studio or instructor.
Flexibility – You can practice in the comfort of your home and choose your schedule. This is especially beneficial for busy people who don't have time to attend a traditional class. You can also switch between different levels and styles as you see fit, whenever you like.
Confidence – You don't need to worry about how you look. One of the best things about practicing yoga at home is that you can do it in your PJs! Seriously though, you don't have to worry about what to wear or how you look when doing Yoga postures in front of others.
If you're new to yoga and feeling a bit intimidated by going to an in-person class, starting off with some online classes can be a great way to ease into things at your own pace.
FAQs
What is an online yoga program?
An online yoga program is a digital platform that provides yoga classes you can access from home or anywhere else. These programs typically offer a variety of yoga styles, levels, and durations to fit different needs and schedules.
Do I need any special equipment for online yoga classes?
In most cases, you'll need a yoga mat. Depending on the class and your level of comfort, you might also need additional equipment like yoga blocks, straps, or a bolster. However, many classes can be done without these items or with household alternatives.
Can beginners do online yoga?
Absolutely! Many online yoga programs offer classes specifically designed for beginners. These classes typically provide step-by-step instructions, pose modifications, and foundational yoga principles.
Conclusion
In conclusion, each online yoga program we have reviewed offers unique benefits, catering to different individual needs, goals, and experience levels. The rise of digital platforms has enabled yoga to be more accessible than ever, allowing practitioners to find the program that aligns with their lifestyles, whether they prefer fast-paced, dynamic styles or slow, meditative practices.
Gaia and Glo continue to lead the market with their comprehensive libraries and seasoned instructors. However, newer entrants like YouAligned and Alo Moves are making a significant impact with their innovative features and community-centered approaches. The Daily Burn, with its emphasis on incorporating yoga into a broader fitness regimen, provides a comprehensive option for those seeking a more holistic health approach.
Choosing the right online yoga program depends greatly on one's personal preferences and objectives. Whether you're a seasoned yogi or a beginner looking to adopt a healthier lifestyle, the programs we've discussed offer something for everyone. From the flexibility of practicing anytime, anywhere, to the opportunity of learning from some of the best yoga teachers worldwide, online yoga programs continue to revolutionize how we approach this ancient practice. As the digital yoga community expands, we look forward to seeing even more innovative features and programs to suit all types of yogis.