Child's Pose benefits are numerous, offering both physical and emotional advantages to those who practice it regularly. This asana, though straightforward, is known to be a powerhouse for stress relief, suppleness-enhancement, and even giving some muscle groups a nice stretch. This comprehensive guide will explore the many aspects of Child's Pose (Balasana) that contribute to overall well-being.
We will delve into the proper techniques for performing Child's Pose correctly and how it can be sequenced within your yoga practice. Additionally, we'll discuss modifications suited for different levels of experience and flexibility while addressing potential precautions and contraindications in performing Balasana.
Lastly, our exploration of Child's Pose benefits would not be complete without examining its impact on emotional and mental health. By cultivating mindfulness through deep breathing techniques during practice, individuals can experience stress relief and reduced anxiety levels as they ground themselves in this restorative posture.
Benefits of Child's Pose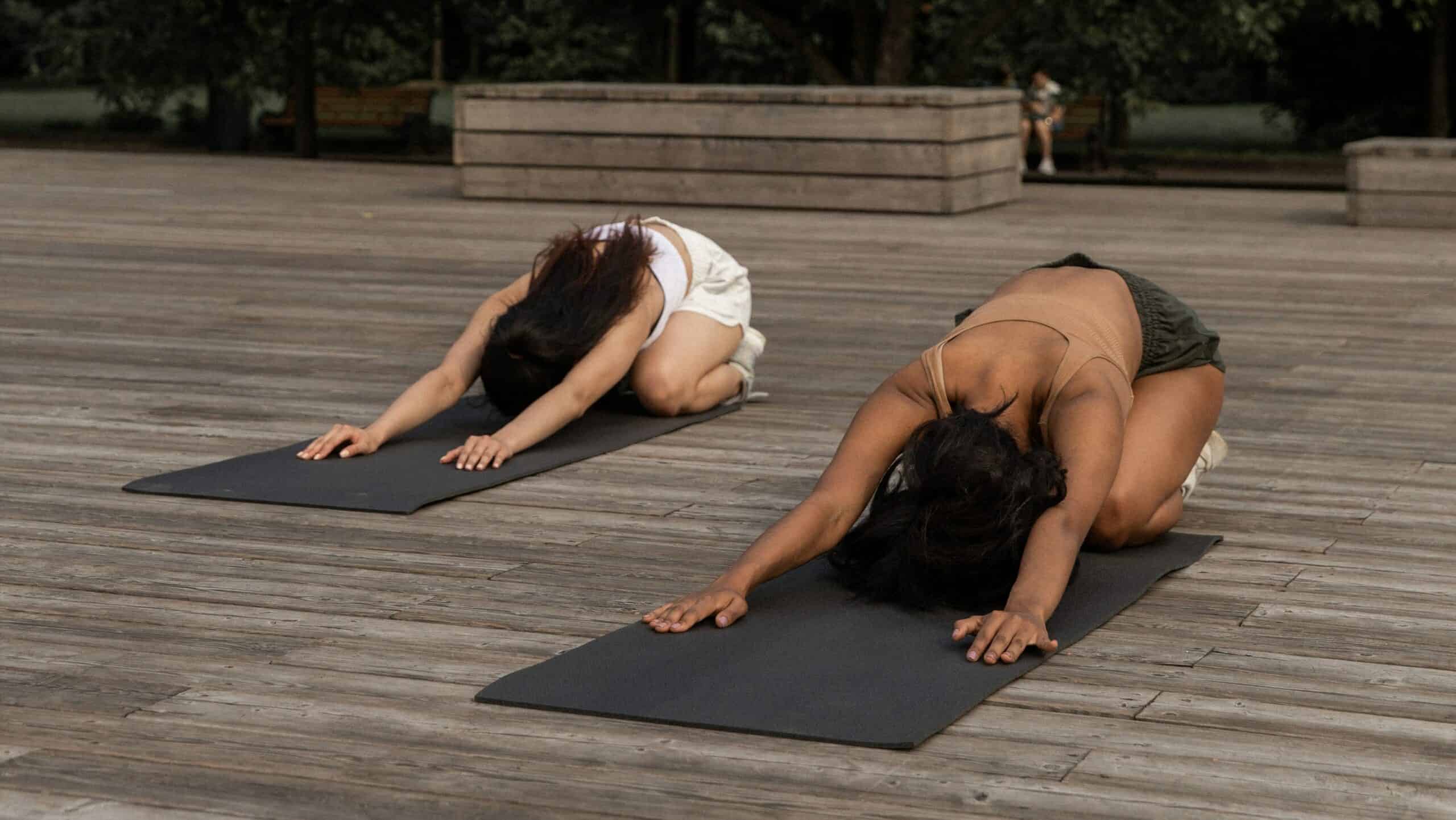 Practicing Child's Pose, or Balasana, offers numerous physical and emotional benefits. It stretches the back muscles, shoulders, and arms while providing a sense of relaxation and calmness. Additionally, it may help lower or regulate blood pressure.
Physical Benefits: Stretching Key Muscle Groups
Incorporating Child's Pose into your yoga practice can significantly impact various muscle groups in your body. By folding forward with your torso towards the ground, you engage and stretch important muscles such as:
Back Muscles: Practicing Child's pose helps to lengthen and stretch the spine while releasing tension in the lower back.
Shoulders & Arms: Your upper body also receives attention during this simple pose as it allows for the stretching of shoulder blades when palms are facing down on the mat.
Hips & Thighs: Balasana gently opens up tight hips by bringing knees slightly apart from each other which provides relief to those who experience discomfort due to prolonged sitting or standing positions.
Emotional Benefits: Promoting Relaxation And Stress Relief
The calming nature of Child's Pose makes it an ideal choice for individuals seeking stress relief through their yoga practice. As you fold forward with your head resting on either a folded blanket or directly onto your yoga mat (depending upon comfort level), you create space for introspection that promotes mental and physical relaxation.
Yoga Journal suggests staying in this restful posture anywhere between one minute to five minutes, depending upon personal preference.
Potential Impact On Blood Pressure Regulation
There is evidence to suggest that practicing Child's Pose may have a positive impact on blood pressure regulation. A study published in the International Journal of Yoga found that participants who practiced yoga regularly for three months experienced significant reductions in both systolic and diastolic blood pressure levels. While this study did not specifically focus on Child's Pose, it highlights the potential benefits of incorporating restorative poses like Balasana into one's regular yoga practice.
The benefits of Child's Pose are far-reaching, from physical stretching to emotional relaxation. Having established the various benefits of Child's Pose, we shall now examine how to execute it properly.
How to Perform Child's Pose Correctly
Correctly performing Child's Pose, or Balasana is essential for reaping its numerous benefits. To maximize the potential benefits, Child's Pose stretches the back muscles, shoulders, and arms while inducing a sense of relaxation. This section will guide you through the steps necessary to achieve proper alignment in Child's Pose.
Starting Position for Balasana
To begin practicing Child's Pose, start by kneeling on your yoga mat with your knees slightly wider than hip-width apart. Bring your big toes together behind you and sit back on your heels. If sitting on your heels is uncomfortable or causes strain in the knees or ankles, place a folded blanket or yoga block between them for support.
Folding Forward and Narrowing Hip Points
Gently fold forward from the hips as you lower your torso towards the ground. Allow gravity to help draw the front of your body closer toward the floor without forcing it down. Extend both arms out in front of you with palms facing down on either side of the head while keeping shoulder blades relaxed away from ears. Rest your forehead gently onto the mat, maintaining a neutral neck position throughout the pose. Use additional props, such as bolsters under the chest area, to provide extra cushioning comfort during practice.
Breathing Techniques During The Pose:
Inhale deeply through the nose and expand the ribcage in all directions creating space within the upper body region
Exhale slowly to release any tension that may be holding onto within muscles joints allowing further relaxation into posture
Continue cycle breaths, taking at least 8 – 10 deep inhales and exhales while resting Balasana
By following these steps, you can ensure that you are performing Child's Pose correctly and safely. Heed your body's signals, adapting and customizing the pose to suit your individual needs. Once mastered, Child's Pose will bring physical and mental benefits to your yoga practice.
Performing Child's Pose correctly can help you gain the maximum benefit from this posture. Sequencing Child's Pose in your yoga practice is a great way to enhance its effectiveness and ensure that it fits well into your overall routine.
Sequencing Child's Pose in Your Yoga Practice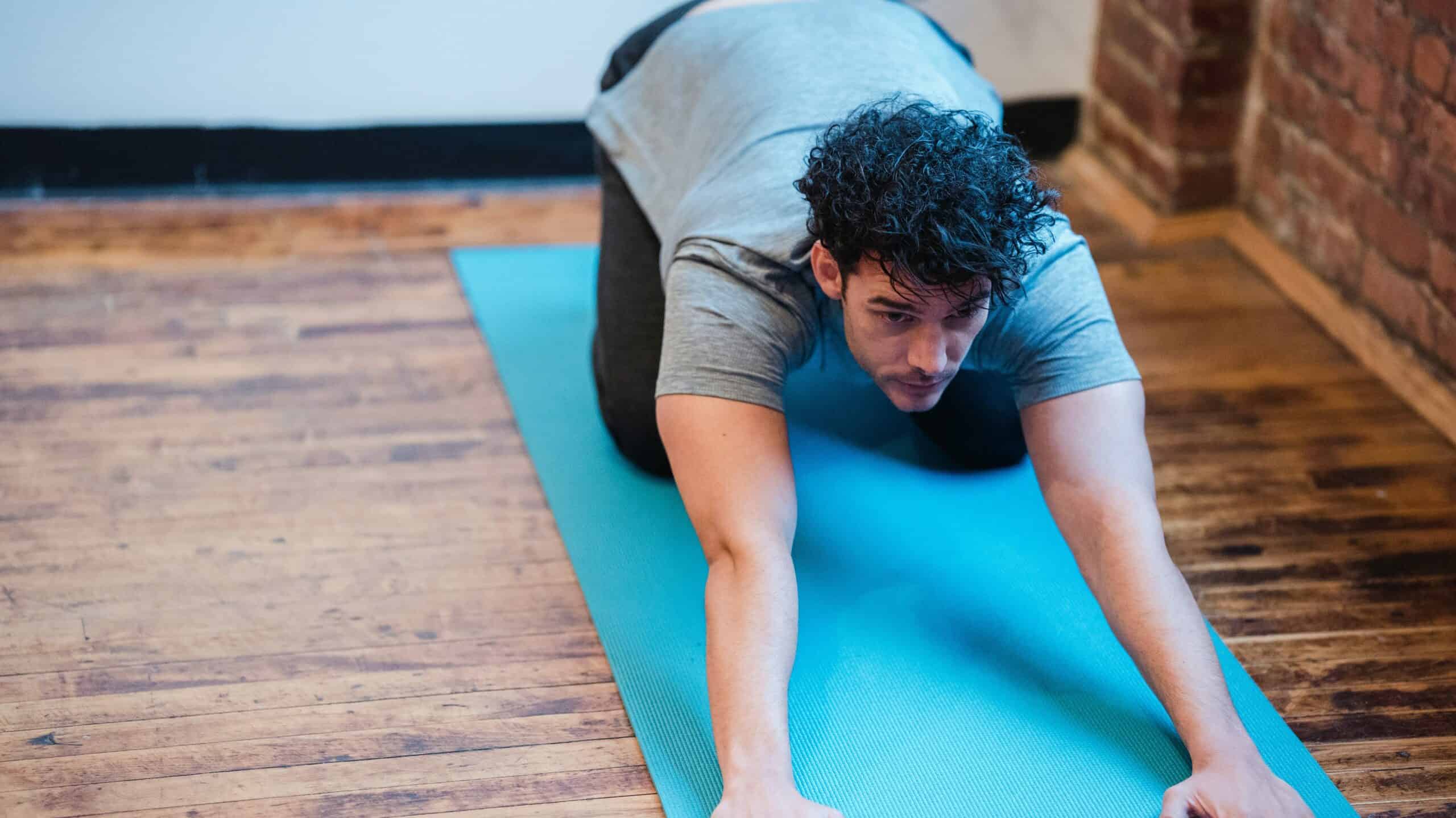 As a restful posture often used between more challenging asanas (poses), incorporating Balasana into your yoga practice can provide an opportunity to pause and reconnect with yourself amidst an intense workout session. You can optimize the benefits of this simple yet powerful pose by understanding when to use Child's Pose within a sequence, transitioning from other poses into Balasana, and combining it with complementary postures.
When to Use Child's Pose Within a Sequence
Incorporating Child's Pose at strategic points during your yoga sequence allows for much-needed moments of rest and recovery. It is particularly useful after practicing difficult postures that engage the back muscles or require significant upper-body strength. Some common instances include:
Following inversions such as Headstand or Shoulder Stand.
After deep backbends like Wheel Pose or Camel Pose.
To counterbalance forward bends like Seated Forward Bend or Standing Forward Fold.
In between sequences of Sun Salutations or Vinyasa flows for brief reprieves.
Transitioning From Other Poses Into Balasana
Moving smoothly from one pose to another is essential for maintaining fluidity in your practice. To transition into Child's Pose from the Tabletop position, follow these steps:
Begin in Tabletop position on your hands and knees.
Bring your big toes together and spread your knees slightly wider than hip-width apart.
Sit back on your heels, allowing your torso to fold forward between the thighs.
Extend your arms in front of you with palms facing down or alongside the body with palms facing up for a more restorative variation.
Combining Child's Pose With Complementary Postures
To enhance the benefits of Balasana, consider pairing it with other poses that target similar muscle groups or provide a counterbalance. Some effective combinations include:
Transitioning from Child's Pose into Cat-Cow pose further stretches and strengthens the spine.
Moving from Balasana into Downward Facing Dog for an additional upper body and hamstring stretch.
Following Child's Pose with Pigeon Pose to open up tight hips while maintaining a sense of relaxation.
Incorporating these techniques will help you maximize the physical and emotional benefits offered by practicing Child's Pose within your yoga practice. Remember to listen to your body, making adjustments as needed so that each session leaves you feeling rejuvenated and balanced.
Sequencing Child's Pose in your yoga practice effectively brings balance and relaxation into a sequence. By exploring modifications for different levels of experience and flexibility, you can ensure that everyone practicing Balasana will get the most out of their session.
Modifications for Different Levels of Experience & Flexibility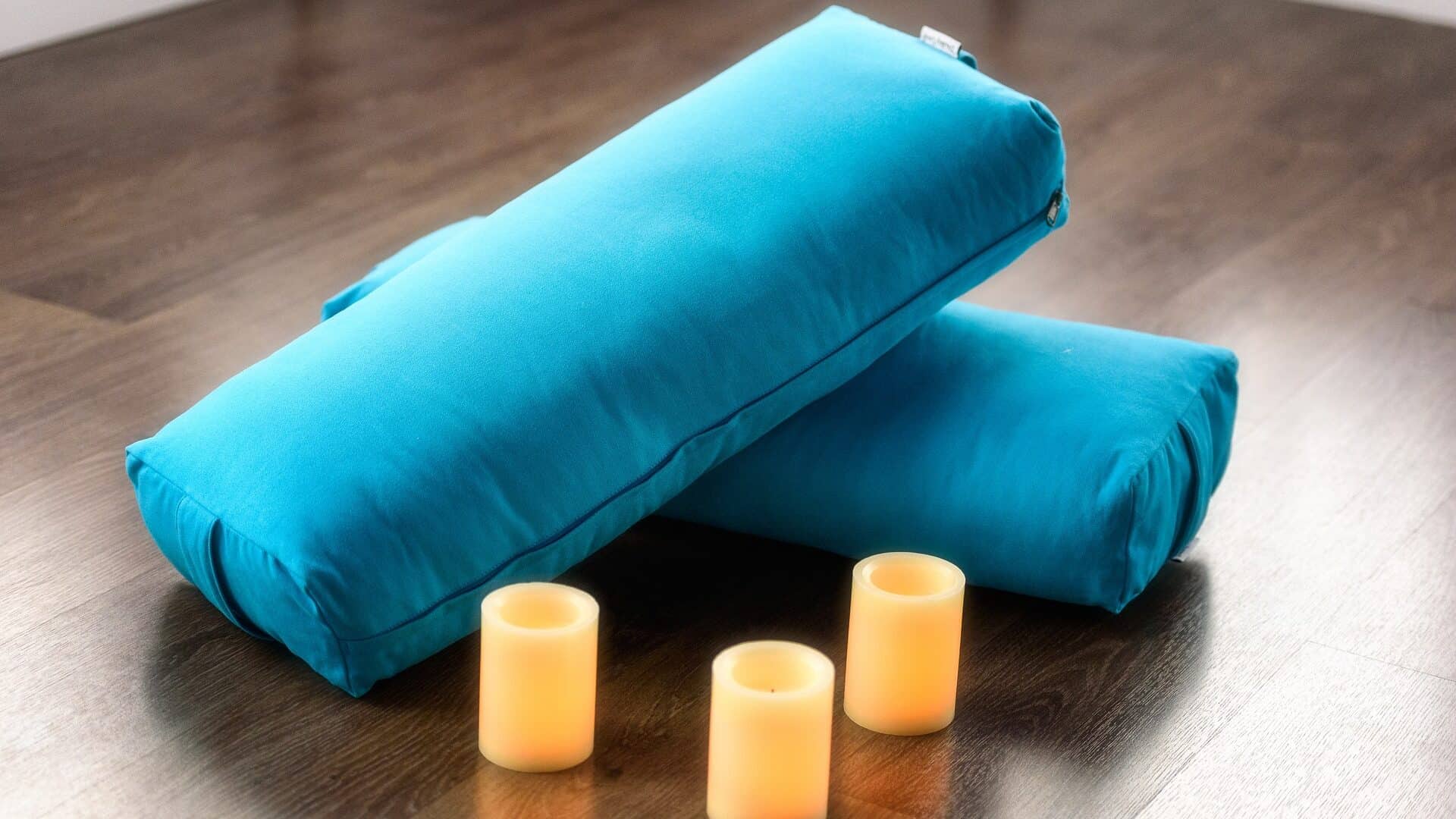 There are several modifications available for practitioners who may find difficulty performing traditional child's pose due to limited flexibility or physical restrictions. These adjustments ensure everyone can experience its soothing effects without strain.
Using props such as blankets or bolsters
If you have tight hips, knees, or ankles, using a yoga prop, like a blanket or bolster, can provide additional support and comfort in Child's Pose. Place the prop under your hips while sitting on your heels with your knees slightly apart. Fold forward over the prop and rest your torso on it while extending your arms out in front of you.
Adjustments for those with tight hips
Knees closer: If you have tight hips, bring your knees closer together rather than wide apart. This will reduce the stretch in the hip area and make it more comfortable.
Pillow between thighs: Placing a pillow between your thighs can also help alleviate discomfort from tight hip muscles when practicing Child's Pose.
Elevate chest: For those experiencing discomfort in their lower back when folding forward into Balasana, try placing a folded blanket under the chest to elevate it slightly off the ground. This modification allows space for movement within the spine without causing undue stress on sensitive areas.
Alternatives for individuals experiencing knee discomfort
If you're dealing with knee pain during Child's Pose practice, consider trying one of these alternatives instead:
Frog Pose: Frog Pose, or Mandukasana, is a similar pose that provides a gentle stretch to the hips and thighs without putting too much pressure on the knees.
Puppy Pose: Another alternative for those with knee discomfort is Puppy Pose, or Uttana Shishosana. This posture stretches the upper body while keeping your legs in a table pose position, reducing strain on the knees.
Supported Child's Pose: If you still want to practice Child's Pose but need extra support for your knees, try placing a folded blanket under each knee before folding forward into Balasana. This will provide cushioning and alleviate any potential pain during practice.
Incorporating these modifications into your yoga practice can help make Child's Pose more accessible and enjoyable for everyone, regardless of their flexibility level or physical limitations. Always pay attention to your body and adjust accordingly for the best, safest results.
By making modifications to the Child's Pose, practitioners of all levels can benefit from this calming and restorative pose. Still, caution should be taken when engaging in this asana so that it can be practiced securely.
Precautions & Contraindications in Performing Balasana
While generally considered safe, there are certain precautions one should take when practicing child's pose. Before attempting this posture, be mindful of any medical issues or injuries it could exacerbate and speak with a healthcare specialist if needed.
Understanding Potential Risks of Child's Pose
In most cases, Child's Pose is a gentle and restorative yoga posture. However, it can cause discomfort or strain for some individuals with specific health concerns. For example, those with severe knee issues might find the pose difficult to perform without causing pain. Additionally, pregnant women should exercise caution as folding forward can put pressure on the belly during later stages of pregnancy.
Precautions for Individuals with Specific Health Concerns
Knee Issues: If you have knee problems or experience discomfort while performing Child's Pose, consider placing a folded blanket between your calves and thighs to reduce pressure on your knees.
Pregnancy: Pregnant women should widen their knees slightly more than usual to create space for their growing belly while performing Balasana. It is also advisable to use props like bolsters under the chest area for added support.
Hip Pain: For individuals experiencing hip pain during Child's Pose, try placing a rolled-up towel beneath each hip joint while keeping your buttocks resting on your heels. This modification will provide additional cushioning and alleviate potential discomfort.
Seeking Guidance from a Qualified Yoga Instructor
For advice tailored to your unique situation and health conditions, consult a certified yoga instructor who can provide modifications or alternative poses. They can help you make necessary modifications and provide alternative poses that may be more suitable for your needs. You can find certified yoga instructors in various yoga directories or by asking for recommendations from friends and family.
It is important to consider the potential risks of Child's Pose before performing it, and individuals with specific health concerns should take extra precautions. Moving on from this topic, let us now explore the emotional and mental benefits that Balasana can provide.
The Emotional & Mental Benefits of Balasana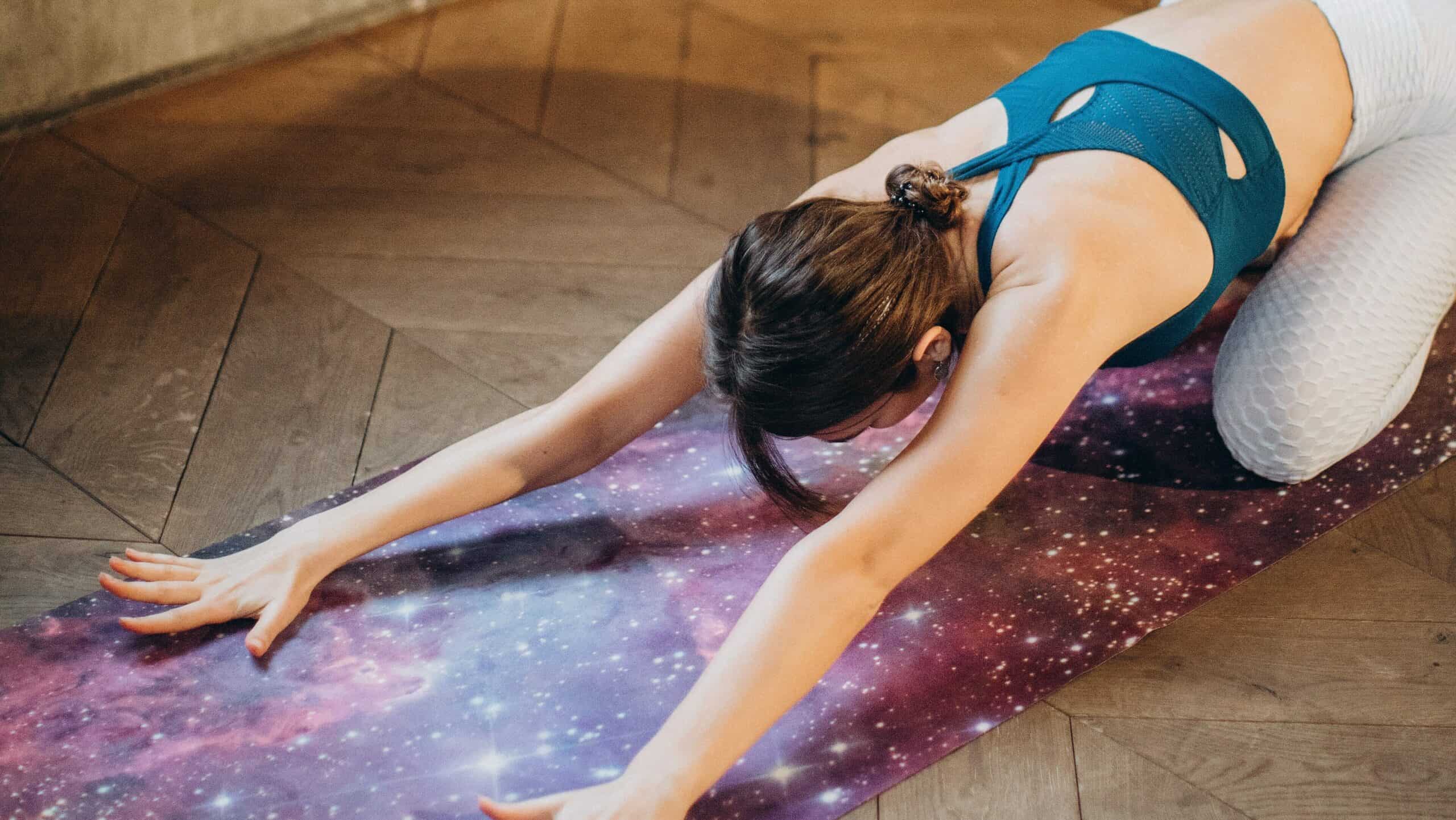 Beyond its physical benefits, Child's Pose also offers emotional and mental advantages. By taking a calming stance and concentrating on one's breathing, this pose can help to reduce tension, worry, and foster general well-being.
Stress relief through deep breathing techniques
Practicing Child's Pose encourages you to take slow, deep breaths, which can stimulate the relaxation response within your body. Cortisol, the hormone linked to stress, is reduced with deep breathing techniques like Child's Pose, which encourages relaxation and grounds one's self, promoting a sense of calm. Resting your forehead on the yoga mat or a yoga block creates gentle pressure that stimulates the vagus nerve – responsible for regulating heart rate and digestion – further enhancing relaxation.
Reducing anxiety levels by grounding oneself
In this pose, your entire front torso rests against the ground or is supported by props such as blankets or bolsters. This close contact with the earth provides a grounding effect that can help ease feelings of anxiety and unease. Being physically grounded makes practitioners feel more secure emotionally as they let go of tension in their necks and shoulders.
Tips:
Keep knees slightly apart if needed for comfort.
Rest palms facing up alongside your body to encourage shoulder blades to relax down towards hips.
Maintain an even neck position by tucking your chin gently toward your chest without straining.
Cultivating mindfulness during practice
Child's Pose offers an opportunity to turn inward and cultivate mindfulness. Holding the pose for 8 – 10 deep breaths encourages you to focus on your breathing patterns and become more aware of sensations within your body. This heightened awareness can help develop a stronger mind-body connection that carries over into other aspects of life, fostering greater emotional resilience.
By regularly incorporating Child's Pose into your yoga practice, you can experience its physical benefits and the mental and emotional advantages of this simple yet powerful resting pose.
Frequently Asked Questions Child's Pose Benefits
Does Child Pose improve posture?
Child's Pose can help improve posture by gently stretching the spine and promoting spinal alignment. It also stretches key muscle groups like the hips, thighs, and ankles that contribute to maintaining good posture. Practicing this pose regularly may improve body awareness and overall posture.
Why is Child's Pose so comforting?
Child's Pose is comforting because it allows for a gentle release of tension in the back, shoulders, and neck while promoting relaxation through deep breathing techniques. The inward folding position creates a sense of security and grounding, which helps reduce anxiety levels. Additionally, it encourages mindfulness during practice which contributes to its calming effect.
Conclusion
Child's Pose is a beneficial yoga asana that can offer a variety of benefits to individuals who regularly practice it for their physical and emotional health. Child's pose has a lot to offer, from stress reduction and increased flexibility to heightened awareness and emotional balance. People of all skill levels and abilities can safely add Balasana into their yoga practice and benefit from it by using the right adjustments and practices.